I love my salads but find bought dressings are very cloying and have an artificial flavour which detracts from the other ingredients. These dressings compliment a simple salad as they have sweet and slightly sharp flavours. I like to use them with a plate of rocket with some sliced smoked duck and some crispy croutons, or a strawberry and Somerset Brie salad.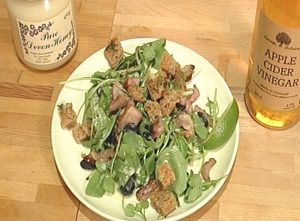 Salad dressings
2017-01-12 16:04:26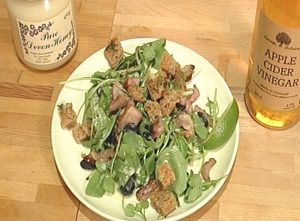 Honey and strawberry vinegar dressing
1 tbsp strawberry vinegar
1 tbsp olive oil
a pinch of coarse ground black pepper
1 tsp honey
Creamy honeyed salad dressing
1 tbsp honey
1 tbsp crème fraiche
2 tbsp apple cider vinegar
1 tsp chopped sage
Instructions
Using your choice of ingredients, mix them well all together or put into a jar and shake well.
Notes
These dressings keep for a couple of days in the fridge and are particularly tasty with a cheese salad.
Sheila's Pantry http://sheilaspantry.com/