Have you got some peanut butter sitting in the cupboard that needs using up? Whether its smooth or nutty you can use it to make a squidgy brownie.
You use less sugar to make this brownie – which is what normally gives it that lovely crust- as the chocolate spread and peanut butter give that same result but without it being so sweet.I recommend using a dark chocolate spread to give it a rich colour and denser flavour.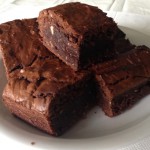 Print Recipe
Chocolate Spread and Peanut Butter Brownie
Ingredients
300

g

dark chocolate spread

175

g

crunchy peanut butter

225

g

castor sugar

130

g

plain flour

15

g

cocoa powder

2

tbsp

vanilla essence

3

eggs
Instructions
Break the eggs into a bowl and add the caster sugar. Whisk until thick and creamy.

Place the peanut butter and chocolate spread in a small and place over a pan of simmering water, making sure the bottom of the bowl does not touch the water.

Stir until smooth and well blended.

Add to the egg mixture with the vanilla essence and whisk again until thoroughly mixed.

Fold in the sieved flour and cocoa until smooth.

Tip into a greased 20cm square baking tin, smooth the top and bake 180C for 40-45 minutes until just beginning to set in the middle. It will continue to cook once removed from the oven.

Leave to cool and remove from the tin.
Notes
Cut into 12 pieces or if you want it as a sweet canapé cut into small mouth-sized bites.
This freezes well. Make sure it is tightly wrapped or in an airtight container.
Makes a delicious dessert served with a chocolate and brandy sauce and vanilla ice cream.