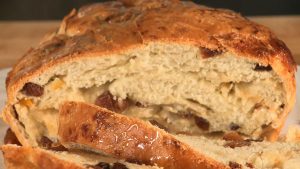 There are many different versions of a Dorset Dough Cake using different ingredients and different methods. They all use a soft, yeasted dough as a base which is then spiced and sweetened. Dried fruit such as sultanas, currants, mixed peel or a mixture of all three can be added and the top has a sticky syrup glaze. For lovers of the old traditional Lardy cake, this is a great alternative.
Watch a video of Dorset Dough Cake.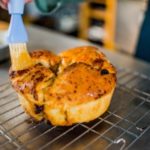 Print Recipe
Dorset Dough Cake
Ingredients
Dough

225

g

strong white flour

sifted

pinch

salt

10

g

softened butter

5

g

dried easy-bake yeast

150

ml

lukewarm water

Filling

55

g

softened butter

110

g

mixed dried fruit

55

g

castor sugar

5

g

mixed spice
Instructions
6" / 15 cm round baking tin, well buttered

Place the flour, salt, butter and yeast in a mixing bowl. Pour the water over the top and using a dough hook, mix on a medium speed for about 5 minutes until well combined. The dough will be quite sticky at this point.

Remove the dough hook and leave the dough in the bowl, covered with a cloth, in a warm place for about half an hour until doubled in size and springs back when gently pressed.

Remove from the bowl onto a floured surface and knock back.

Spread or roll out to about 20 cm square.

Spread the softened butter over the top and fold and work it into the dough. Repeat with the sugar, spice and fruit, gently working everything into the dough. The dough is quite sticky to handle at this point.

Round the dough off and place into the baking tin. Cover and put in a warm place to rise, approximately 1 hour, until it has risen to the top of the tin.

Bake at Gas Mark 4/180C for 30 to 40 minutes. Cover with paper if necessary to prevent burning on top. When cool, brush with sugar syrup or honey to glaze.
Notes
Best eaten on the day of baking. Traditionally it is eaten without butter.