If you like the flavour of polenta this is a good alternative to the more traditional pizza base. The mixture is quite loose and the addition of yogurt and egg gives it a more scone-like texture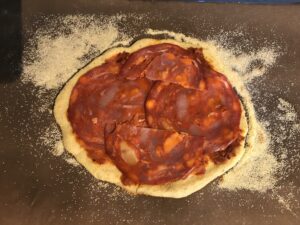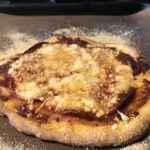 Print Recipe
Polenta Pizza
Ingredients
100

g

fine polenta

50

g

plain wholemeal or rye flour

1

tsp

baking powder

Pinch

salt and black pepper

100

ml

milk

50

g

natural or Greek yogurt

1

egg

50

ml

sunflower oil

Coarse polenta to dust
Instructions
Pre-heat oven 200C/ Gas Mark 6

Mix together the polenta, flour, baking powder and seasoning in a bowl.

Measure the milk, yogurt and oil in a jug. Add the egg and beat together.

Add the wet ingredients to the dry ingredients and combine to a smooth batter.

Sprinkle some coarse polenta onto a baking tray.

Spoon a tablespoonful of the mixture onto the tray and spread gently to form a 12cm circle. Sprinkle with a bit more coarse polenta.

Bake for 5-6 minutes until firm in the middle.

Remove from the oven and spread with your favourite topping. A good rich tomato sauce compliments the base, which is quite bland but has a good texture and crunch. (One of my favourite toppings is Belazu Turkish Pepper Paste. )

Then add any other toppings such as chorizo, cooked mushrooms, roasted peppers or ham.

Top with your choice of cheese - Parmesan or grated cheddar.

Bake for a further 10-12 minutes until golden and serve.