This recipe uses the concept of a ratatouille to make a filling for red peppers. The lovely meltingly soft flavoursome filling gives a nice contrast to the slightly crispy red pepper.
It's a great recipe for adding your preference of flavour. I used the last couple of tablespoonfuls of Belazu Red Pepper Paste but any pesto, paste or sauce can be used.
Traditionally courgette is part of a ratatouille but as I didn't have any and it's not our favourite vegetable, I replaced it with sliced Brussel sprouts This gave the dish its slightly nutty flavour and went well with the red pepper……..a good way to use up leftover Brussels and may appeal a bit more to the 'sprout-hater' !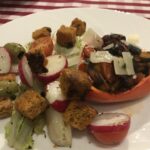 Print Recipe
Ratatouille-style stuffed red pepper
Ingredients
1

large red pepper

halved and seeded

2

tbsp

rapeseed oil

1

small aubergine

diced

1

small onion

peeled and finely chopped

1

clove

garlic

finely chopped

1

courgette

sliced or 12 blanched brussel sprouts sliced into 3

Salt and black pepper

2

tbsp

tomato purée

pesto or tapenade - I used red pepper paste. It's a great way to use any of those jars that sit in the fridge half full.

Parmesan shavings

Optional additional seasonings -

Chilli flakes

Paprika

Chopped fresh herbs
Instructions
Heat the oil in a large pan and add the aubergine, tossing well to coat.

Cook over a low heat for 10-12 minutes until soft and starting to brown slightly.

Add the onion and garlic and cook until soft.

Add the courgettes or sprouts and cook through for another 4 minutes.

Stir in your choice of sauce. Season.

Divide the mixture between the red pepper halves. Place on a baking tray.

Bake at 180C/ Gas Mark 4 for 20 minutes until cooked through.

To serve sprinkle with Parmesan shavings.

Drizzle with a little herb oil to finish.
Notes
Note: I served this dish with halved Little Gem lettuce flashed in a hot pan with a little oil, topped with with sliced radish, cherry tomatoes, green olives and topped with croutons.