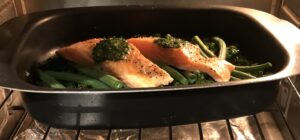 For a quick, simple yet healthy meal this traybake dish gives you all you need.
It can be prepared ahead ready to pop into the oven for the last 15 minutes.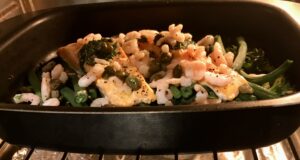 Perfect for a dinner for 2 or increase the numbers and you have a relaxing dinner party main course which can be served with Dauphinois Potatoes or Polenta Chips.
It's a good idea to have some rolls of parley and garlic butter ready prepared. They can be frozen. I like to make up a batch of different flavours to add to cooked vegetables such as carrots, sprouts or mashed vegetables, sautés mushrooms or any other sautéed dishes. great for using any leftover herbs from previous dishes.
Here are some suggestions –
Coriander and chilli flakes
Parsley and mustard seeds – great with gammon steaks
Sage and lemon rind
Mint, coarse black pepper and finely chopped spring onion – melt and drizzle over griddled halloumi
Rosemary, orange rind and ground coriander – great with broccoli or spread over chicken breasts before grilling
Coriander, turmeric and nigella seeds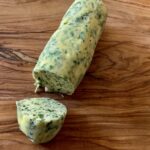 Print Recipe
Roasted Kale and Green Beans with Salmon Fillet in a Parsley and Garlic Butter with Capers and Cocktail Prawns
Ingredients
2

100g

salmon fillets, skinned

100

g

Kale, coarsely chopped and stemmed

100

g

green beans, ends trimmed, cooked al dente

salt and coarse black pepper

100

g

cocktail prawns, drained

1

tbsp

capers, drained
Parsley and Garlic Butter
60

g

butter

2

cloves

garlic, peeled and chopped

2

tbsp

chopped parsley
Optional extras
1

tsp

chilli flakes

1

tsp

sweet paprika
Instructions
Wash the kale well and pat dry. Melt 40g butter and toss the kale, coating thoroughly.

Put into a shallow baking dish and roast for 12-15 minutes 180C/Gas mark 4 until starting to crisp. Toss well.

Place the green beans on top of the kale, then top with the salmon fillets. Season with salt and pepper. Place a 10g coin of butter over each fillet. If using sprinkle with chilli flakes or paprika.

Cook for a further 10-12 minutes until the salmon is just cooked. Sprinkle the prawns and capers over the dish and heat through for 4-5 minutes.
Parsley and Garlic Butter
Soften the butter slightly and stir in the garlic and parsley. Mix well. Using cling film to help, shape the butter into a sausage shape. Chill until ready to use.

Use two-thirds to start cooking the kale and divide the rest into two coins to top the salmon.
Notes
Tip -
I use the small cocktail prawns found in the frozen fish compartment.
if you're not a fan of capers try sliced black olives or chopped sun-dried tomatoes..... or a mixture of your choice. These are all added at the last stage.
When making the butter it is worth making a large batch into 2 or 3 rolls.
Here are some suggestions for other flavours-
Coriander and chilli flakes
Parsley and mustard seeds - great with gammon steaks
Sage and lemon rind
Mint, coarse black pepper and finely chopped spring onion - melt and drizzle over griddled halloumi
Rosemary, orange rind and ground coriander - great with broccoli or spread over chicken breasts before grilling
Coriander, turmeric and nigella seeds