Sometimes there are the odd occasions when after a celebration or indulgence, you may find yourself with some prosecco or champagne left in a bottle! Then this is the ideal sauce to make…..
It compliments salmon perfectly and for a vegetarian option then why not use it to dip in some beautiful roasted asparagus.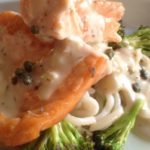 Print Recipe
Champagne/Prosecco Sauce
Ingredients
400

ml

Prosecco or Champagne

2

shallots

finely diced

20

g

butter

20

g

plain flour

1

tbsp

chopped fresh dill

250

ml

single cream or greek yogurt - or a mixture of both

salt and pepper to taste

2

tbsp

caper

optional
Instructions
Pour the Prosecco or Champagne into a saucepan and bring to the boil.

Boil for 4 minutes to reduce by half.Pour into a jug.

Melt the butter in a frying pan over a low heat. Add the shallots and sauté until soft.

Remove from the heat and stir in the flour.

Slowly add the prosecco or champagne, stirring well.

Place back on a low heat and stirring constantly, simmer for 3 minutes. Add the cream or yogurt and bring to the boil. Boil for 2 minutes. Add the dill and stir well.

Season to taste and simmer for 4 minutes.

If using, add the capers.
Notes
I chose to serve it on a dish of stir-fried broccoli with udon noodles.
The sauce can be portioned and frozen.