The joy of making your own pesto is that you can use up a lot of storecupboard bits. Basically with some nuts, oil, cheese, herbs and seasoning you can create a tasty pesto for use with many dishes. Peanuts, cashews, walnuts, brazils, almonds – all cheaper than the traditional pine nut recipe but still give a delicious flavoursome pesto. Mix them if you want to use some leftover nuts in the cupboard. Pecans, macadamia, and hazelnuts are also options.
In my recipe here I have roasted hazelnuts and brazils to give a nutty flavour and although darker than traditional pesto it is still is packed with flavour. I had some salad leaves that needing using so in addition to traditional herbs, I added some leaves. I never throw away lettuce, watercress or rocket – it can be used as here in a pesto or in soups and sauces such as a tomato or vegetable sauce.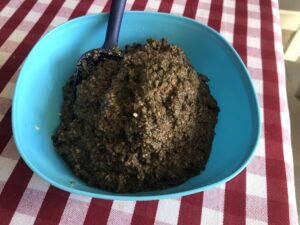 I served the pesto with grilled sea bass fillet, sauteed Romaine lettuce and a cocktail of shrimps, capers and green olives.
Print Recipe
Roasted nut and salad leaves pesto
Ingredients
2

large handfuls of Tenderstem leaves or other salad leaves

4

tbsp

olive oil

Small bunch herbs - parsley or basil

6

tbsp

nuts - almonds

brazils, cashews or peanuts

2

tbsp

cheese - cheddar or parmesan, grated

1-2

tbsp

lemon juice

Salt and coarse ground black pepper
Optional additions -
Chilli flakes

Garlic

Sun-dried tomatoes
Instructions
Spread the nuts onto a baking tray and bake for 10-12 minutes in a moderate oven taking care not to let them brown to much or they will taste bitter. Alternatively spread out into a frying pan and cook gently until just starting to brown.

Leave to cool.

Place the cooled nuts, herbs and salad leaves into a processor and whizz for about 30 seconds until evenly broken down into small pieces.

Add the oil and cheese and any optional extras if using. Process again for about 30 seconds. You should have a smooth blended mix.

Add enough lemon juice to taste, and season.

Scrape into a bowl or jar to use as needed.

It keeps for a week in the fridge or can be frozen.
Notes
Serving suggestions - Grill sea bass fillets and serve the pesto on the side. Tossed into cooked orzo or rice and add any leftover chopped vegetable, mix well and top with grilled halloumi. Add some oil to the pesto. Chop some chestnut mushrooms and toss in the pesto. Saute until cooked and serve on chunky buttered toast, drizzling over any juices.