Not everyone loves kale but it is so full of healthy nutrients including fibre, anti-oxidants, vitamins C and K and iron. The leaves are green sometimes with a slight tinge of blue or purple at the tips. It has a strong , distinct flavour
Kale can be boiled, steamed, eaten raw, sir-fried or made into delicious soup or pesto.
Kale 'crisps' can be made by rubbing a little rapeseed or olive oil into chunky shreds and roasting for a few minutes until just starting to brown a little at the edges. . Adding some chilli flakes, garlic salt, black pepper or a pinch of spice will give your crisps a nice flavour.
Delicious served with Cauliflower Pancake wrapper.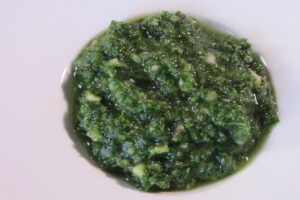 Print Recipe
Kale And Almond Pesto
Ingredients
Handful of kale

stems removed and chopped

2-3

tbsp

olive oil

1

tbsp

ground almonds

Squeeze of lime juice

1

garlic clove

Salt and black pepper
Instructions
Put the kale in a processor with the garlic and blitz until fine.

Add the remaining ingredients and process until the desired texture.

This can be used with pasta, as a dip or tossing into roasted vegetables.

I spread it liberally on slices of seeded wholemeal bread and bake or grill until melting and starting to crisp.

It can be frozen.