As much as I love cauliflower as a side dish, after a couple of days it can be a bit too much. I make these pancake wrappers ready to fill with a variety of fillings as a lunchtime snack or as a main meal with a salad.
I make small ones or cut a large one into triangles to use as a dipper into hummus or Kale and Almond pesto.
These are delicious filled with Black Bean & Chickpea Veggie Chilli
Watch the video to see the Chilli in a cauliflower wrapper.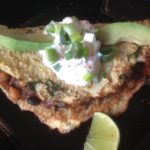 Print Recipe
Cauliflower pancake wrapper
Ingredients
Half medium cauliflower

stalk removed and cut into florets

2

medium eggs

Pinch

salt and pepper

Optional additions

1

tsp

curry paste

1

tbsp

chopped coriander

Or

1

garlic clove

crushed

1

tbsp

chopped parsley

Or

2

sun-dried tomatoes

finely chopped

1

tbsp

chopped basil
Instructions
Preheat oven 200C / Gas Mark 6. Line 1 large or 2 small baking sheets with parchment paper.

Pulse the cauliflower in a food processor until they form small crumbs.

Turn into a bowl and stir in beaten eggs. Add any other choices of ingredients and combine well.

Divide the mix into 2 and spread each half into into a large circle approximately 18-20cm in diameter.

Bake for about 20 minutes until dry and starting to gently brown at the edges.

Invert onto plate and spoon your choice of filling onto one half. Fold over and serve warm.

To keep warm, pile the wraps onto a plate with bakewell parchment between each layer.
Notes
For a Vegan version, substitute the egg with 1 tbsp light tahini and 30g fine cornmeal.