Paneer is a wonderful cheese with a dense, crumbly texture and compliments flavours spicy, sweet and sour.It is a rich source of milk protein and unsalted. Although it is usually associated with South-Asian dishes, I have used it in other cuisines. It can also be grilled and served as a kebab or in a panini-style sandwich. As there isn't any rennet used it is a perfect cheese for vegetarians to use in cooking. It is made using heat and acid rather than culture and rennet.
My recipe includes green beans which adds a different texture, colour and the flavours compliment the paneer.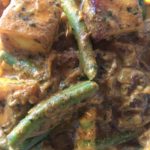 Print Recipe
Spicy paneer and green bean curry with coconut milk
Ingredients
2

tbsp

sesame oil

1

226g

paneer cheese

cut into 16 pieces

1

small red onion

finely chopped

2

cloves

finely chopped garlic

1

tsp

chopped root ginger

1

tsp

Garam masala

1

tsp

turmeric

1

tsp

paprika

1

tsp

cumin seeds

1

tbsp

red Thai curry paste

1

tbsp

tomato purée

400g

Coconut milk

1

tsp

chopped mint

1

tbsp

chopped coriander

100

g

green beans
Instructions
Gently heat the sesame oil in a frying pan and fry the paneer until just golden on each side.

Remove and saute the onion and garlic in the remaining oil, until soft. Add to the paneer.

Fry the cumin seeds until just popping and add the paprika, garam masala and turmeric and just heat gently taking care not to burn the spices. Remove from heat.

Add the paneer, onion and garlic back to the pan along with the ginger, curry paste, tomato puree and coconut milk. Stir well and heat gently for 15-20 minutes, ensuring the sauce doesn't stick to the bottom.

When the curry is nicely blended and beginning to thicken, add the coriander. Stir well.

Serve and sprinkle with mint.
Notes
Serves 2 as a main. If using as a side dish, can serve 4-6.
Serving suggestion -
spiced roasted new potatoes.
roasted sweet potato wedges with nigella seeds
tomato salad
naan, chapati or rice.
green salad with lettuce, baby spinach and rocket.