The great thing about having a box of mushrooms in the fridge is you can always turn them into a quick brunch, lunch or supper. They appear in my experience to be a little like Marmite – people love them or hate them! I suppose you can understand the slightly slimy texture being off-putting to some, but I love them in all their shapes and sizes and I find that lovely aroma when they are frying is mouth-watering.
The versatility of the humble mushroom means it can compliment almost any savoury dish. Soups, pasta dishes, stews, pates, on toast, omelettes, stuffed, baked and fried……the list is endless.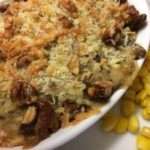 Print Recipe
Baked Mushrooms in a Cheesy Cider Sauce with Walnuts
Ingredients
300

g

chestnut mushrooms

thickly sliced or quartered

50

g

walnuts

toasted and roughly chopped

40

g

butter

20

g

plain flour

100

ml

full fat milk

100

ml

dry cider

80

g

grated cheese

stilton, cheddar or a mixture of both

15

g

panko breadcrumbs

1

tbsp

fresh chopped parsley

salt and pepper
Instructions
Melt 20g butter in a frying pan and add the mushrooms. Sauté over a high heat until starting to brown and any liquid has evaporated. Put to one side.

Melt the remaining butter in a pan and stir in the flour.

Take the pan off the heat and gradually stir in the milk and cider to get a smooth sauce. Return to the heat and, stirring all the time, bring to the boil.

Simmer gently for 2 minutes and season with salt and white pepper. Add the parsley.

Stir in half of the cheese and allow to melt.

Add the mushrooms, stir well and tip into a baking dish.

Heat oven to 200C/fan 180C/gas 6.

Scatter over the remaining cheese, walnuts, and breadcrumbs.

Place in the oven and cook for 10 mins until the cheese is melted and golden.
Notes
Serving suggestion:
Arrange some rocket or salad leaves beside each serving.
Delicious served with sweetcorn, or Honeyed garlic carrots with sweetcorn
Add all of the cheese to the mixture and use to fill crepes or croissants and bake for about 10 minutes in a hot oven.
Tip: Make a big batch of the sauce and put into 1, 2 and 4 sized portions to have ready in the freezer when needed.