Gado-gado is an Indonesian salad which literally means "mix-mix" since it is made of rich mixture of vegetables such as carrot, bean sprouts, cucumber, green beans, potato with tofu and hard-boiled eggs, all coated in a peanut sauce dressing.
The joy of this salad is you can use such a variety of vegetables – raw or cooked- to suit your availability and taste.
I add cherry tomatoes for colour and flavour and blanch some carrots and celery to give a contrast in textures. This dish can be served as a quick and easy starter or increase the ingredients and serve as a main course.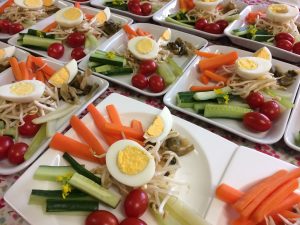 Print Recipe
Indonesian Salad with a Peanut Sauce Dressing
Ingredients
8

new potatoes

1/2

cucumber

1

bag bean sprouts

4

hard-boiled eggs

2

sticks celery

2-4

carrots

peeled

16

cherry tomatoes
Peanut Sauce
1

onion

finely chopped

1

tbsp

oil

coconut or sunflower

100

g

smooth peanut butter

2

tsp

chilli sauce

1

tsp

tamarind sauce

1

tsp

palm sugar or soft brown sugar

175

ml

coconut milk

1

tbsp

lime juice

100

g

unroasted peanuts
Instructions
Cook the potatoes until tender, and quarter when cool.

Cut the carrots and celery into equal narrow lengths about 3cm long. Blanch in a pan of boiling water for 2 minutes and immediately chill in cold water.

Peel strips from the cucumber and slice in half lengthwise. Using a teaspoon remove the seeds and cut into lengths about the same size of the carrots.

Rinse the bean sprouts well and drain. Divide between the plates, placing in the centre.

Arrange the carrots, celery, cucumber and cherry tomatoes around the plates.

Halve the eggs and place on the bean sprouts.

Drizzle with the peanut sauce.
Peanut Sauce
Heat the oil and cook the onion gently until cooked through without browning. Cool.

Add the remaining ingredients to a blender with the onion and blend until evenly mixed. At this stage you can go for a coarse or really smooth dressing. If it seems too thick add a little boiling water.
Notes
The peanut sauce freezes well if you have any over. It can be used as a delicious marinade for chicken or for a vegetarian dish, use a selection of mushrooms.
The versatility of this salad means any odd vegetables in the fridge, such as mushrooms, beans, spring onions and cauliflower, can be used up.