Polenta is made by grinding corn into flour, or meal.Traditionally in Italy, it is the name of the dish not the actual ingredient. It is a rich yellow colour, with a slightly sweet flavour and is available in different grades ranging from coarse to fine. It can be cooked to be creamy and thick, or allowed to set and then sliced. Most polenta we buy in the shops is 'instant' and is part-cooked so only needs a few minutes cooking compared to traditional polenta which can take up to 50 minutes to cook.
Polenta or cornmeal is very good for gluten-free dishes. You can make a variety of tasty cakes, muffins, pie crusts, cornbreads and it makes a lovely coating instead of breadcrumbs.
Polenta chips are a really tasty alternative to potato chips. They are cheap, easy to make, healthy ….. well healthier when oven-baked and can be served with any meal. They make lovely 'dippers' to dunk into salsas, pestos or any creamy mayonnaise. Their lovely golden colour adds to any plate. I make a big batch and freeze in portions ready to cook.
I have given three options of cooking – oven-baked, shallow-fried and deep-fat fried.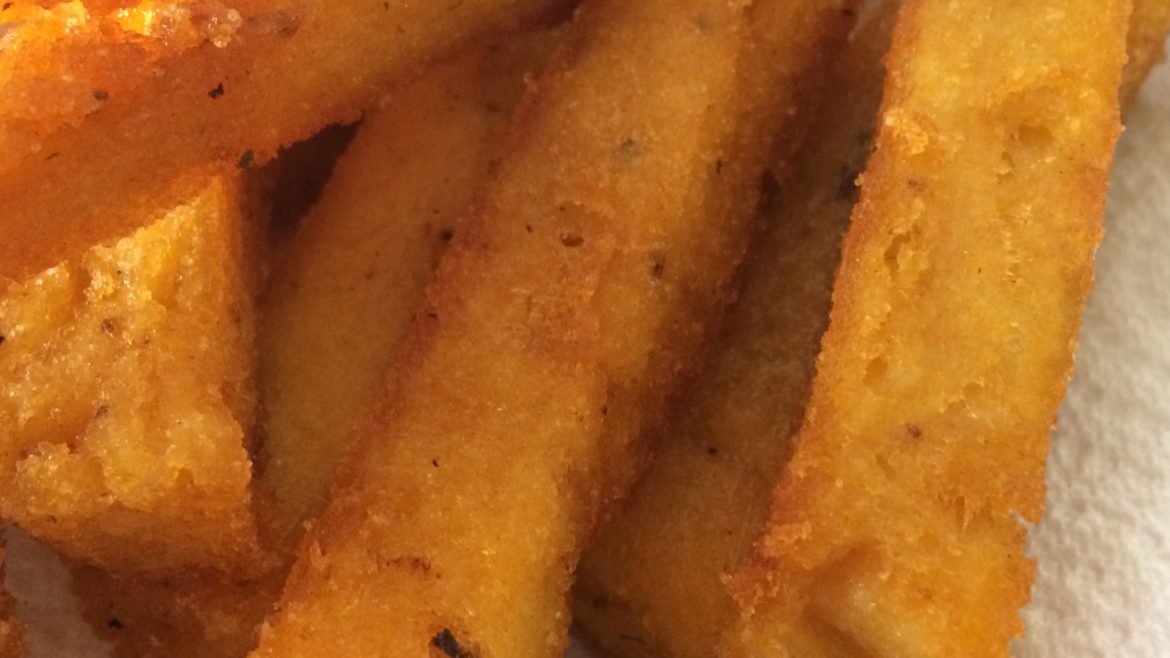 Print Recipe
Polenta chips
Ingredients
250

ml

water

500

ml

vegetable stock

125

g

polenta

plus 1 tbsp to dust if baking

30

g

butter

Pinch

ground black pepper

Oil for deep-frying
Optional additions:
Chopped herbs, fresh or dried - parsley, chives, oregan

Paprika

Dried Chillies

Grated parmesan cheese
Instructions
Oil a 8cm x 25cm shallow baking tray.

Put the water and stock into a medium size pan and bring to the boil. Reduce to a simmer.

Gradually add the polenta and pepper, stirring constantly.

Simmer for about another 10 minutes until the polenta thickens.

Stir in the butter and any optional extras, then spread the polenta into the baking tray.

When it has cooled place in the fridge for about 2 hours or until firm. It can be frozen at this stage to be baked or fried off when needed.

Heat the oil in a pan and deep-fry in batches until browned.

Cut the polenta into chips of your desired size.
Oven-Baked
Brush with olive oil. Dust with the extra polenta. Arrange on a greased baking tray in a single layer and bake for 30 minutes, turning halfway, until crisp and golde
Shallow-fried
Put some polenta into a shallow dish, then turn each chip in it to lightly coat. Put the oven on low.

Heat 1-2 tablespoons of olive oil in a frying pan, and put over a medium heat. Fry the chips in batches until golden brown on all sides, then drain on kitchen paper and keep warm in the oven until all the polenta is used up. Serve hot.
Deep-fried
Heat the oil in a pan and deep-fry in batches until browned, approximately 5-7 minutes.