Caponata – a traditional Sicilian vegetarian dish packed with flavour and versatile too! It combines sweet/sour with a beautiful colour and strong flavours.
Cooking the aubergines separately and combining with the other ingredients at the end keeps the flavours individual. The flavours come from olives, capers and pine nuts and it can be served hot or room temperature. It keeps in the fridge for several days. For best results it is worth buying good tinned chopped tomatoes.
The Caponata can be served on crostini or bruschetta, spread with Herb and Pea Pesto, or as a side dish with chicken or fish.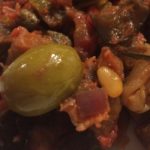 Print Recipe
Caponata
Ingredients
2

medium

aubergines

60

ml

olive oil

1

red onion,

peeled and thinly sliced

3

celery stalks,

thinly sliced

400

g

chopped tomatoes

1

tbsp

capers

50

g

pitted green olives

1-2

tbsp

red wine vinegar

1

tsp

caster sugar

1/2

tsp

chilli flakes,

optional

30

g

pine nuts

10

g

dark chocolate

salt and black pepper

basil or parsley, optional
Instructions
Cut the aubergine into cubes about 2cm. Toss well into 40ml olive oil. Place in a roasting dish spreading well and roast at 180/Gas mark 4 for about 20 minutes until soft and starting to brown.

Heat the remaining oil and fry the onion and celery until soft.

Add the tomatoes, chilli, salt and pepper and simmer for 10 minutes.

Add the capers, olives, vinegar, sugar and chocolate. Stir well and simmer for 10 minutes.

Stir in the aubergines until full coated with the sauce. Remove from the heat.

Leave to stand in the pan for at least 30 minutes to allow the flavours to blend.

Serve sprinkled with pine nuts and basil or parsley.
Notes
The addition of the chocolate brings a richness to the dish in the same way a Mexican chilli con carne benefits from this unusual addition.
If you do not like aubergine try replacing with firm young courgette and cook with the onion and celery so as not to overcook.