I love the versatility of pesto. It can be adapted to what is in your store cupboard and use up all those bits you never know what to do with. DO NOT THROW ANYTHING AWAY! there is always some dish that can take different flavours. You might even find your new favourite flavour combination. I grow several different herbs in my garden – sorrel, lovage, parsley, basil, mint, chives, marjoram, rosemary and thyme. Also wild garlic has managed to seed itself in patches all around the garden. Be warned it can take over!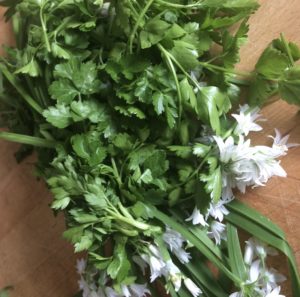 As well as adding great flavours to soups, sauces, salads and dips such as hummus, wild garlic, as with regular garlic, also has antibacterial, antiseptic and antibiotic properties…… and its free with a walk in the woods to keep you fit as well!
Traditionally pesto is made with basil, pine nuts, parmesan cheese and olive oil. Try experimenting using different herbs, nuts or cheeses or a combination. Also I sometimes add some sun-dried tomatoes or some of those artichokes in oil into the blender. When you next open your fridge door and see jars with maybe a sad tablespoon left in the jar that might just be what you need to spice or flavour up your pesto. Try a little at a time and taste.
You have now made your pesto. What next? My recipe here makes about 6 medium size pots.Portion this out and freeze for up to a year or store in the fridge for up to 2 weeks. .
The uses for the pesto are limitless.
Stir into a soup to add flavour
Spread thinly on bruschetta top with Caponata or sautéed mushrooms.
Great for any pasta dish.
Use in a wrap with lettuce, tomatoes and cucumber
Warm through with prawns and serve with rice or couscous
Cook up some orzo and add pesto, peas and chopped chicken or feta cheese.
Add to some hummus and you have a delicious dip. Serve with carrot sticks.
Toss into roasted new potatoes whilst still hot. Serve hot or cold.
Add to yogurt for a dressing.Delicious as a change from mayonnaise when making coleslaw.
Blend with cream cheese and use to stuff a chicken breast.
Print Recipe
Garden Herb and Pea Pesto
Ingredients
100

g

herbs

50

g

cooked peas

80

g

cheese -

parmesan, cheddar or mix of the 2, grated

50

g

fresh spinach leaves

300

ml

olive or rapeseed oil

2

garlic cloves

100

g

nuts -

pine nuts, almonds, brazil nuts or mixture

1

tsp

lemon juice

1

tsp

ground black pepper

pinch

salt
Instructions
Chop the herbs and spinach and put into a food processor with the nuts, peas and garlic.

Blitz in 10 second pulses until finely chopped.

Add the oil, lemon juice and pepper. Pulse to the right consistency for your choice.

Taste and add more lemon juice and salt if needed.

Store in the fridge for up to 2 weeks or freeze in portions for up to a year.
Notes
The consistency of the pesto can be made to suit your personal liking and also what dishes you want to use it for. I prefer my pesto with some texture and so I only blitz it for a short while.