Traditionally made with pigeon or quail, Bastille is a lovely combination of spicy, nutty and sweet chicken pie having an unusual filling made with the hot stock and eggs creating a thick sauce, and all encased in crispy filo pastry. A layer of almond sugar adds to the flavour.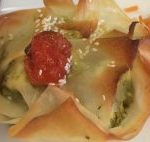 Print Recipe
Moroccan Chicken B'stilla
Ingredients
Filling
350

g

chicken thighs

boneless

1

tbsp

ras el hanout

pinch

saffron

50

g

butter

1

onion

finely diced

2

garlic cloves

crushed

1

tsp

finely chopped root ginger

1/2

tsp

ground black pepper

150

ml

chicken stock

2

eggs

lightly beaten

10

g

lemon juice

1

tbsp

chopped fresh parsley

1

tbsp

chopped fresh coriander

1

tsp

salt

6

sheets filo pastry
Almond sugar
50

g

ground almonds

25

g

caster sugar

1/2

tsp

ground cinnamon
Instructions
Heat the chicken stock and add the saffron.

Melt 10g butter in a pan and add the onions and garlic. Sweat until soft.

Add the ginger, ras el hanout, and pepper. Stir together well and add the chicken skin side down. Cook gently for about 5 minutes.

Add the stock and saffron. Cover and simmer until cooked - 25-30 minutes. Remove from the heat and leave to cool in the pan.

Transfer the chicken to a plate, keeping all the stock, and remove the skin. Chop the chicken finely.

Reduce the remaining liquid slightly until you have 125ml. Keeping the heat low, slowly add the beaten eggs slowly into the liquid, whisking as you add. Cook until the eggs are set, about 4 minutes. Remove from heat and pour the egg mixture into a sieve set over a bowl. Allow the mixture to drain for about 10 minutes.

Place the egg mixture in a bowl and add the chicken, parley, coriander, lemon juice and seasoning.

Prepare the almond sugar while the mixture cools. Dry fry the almonds in a pan until light brown and aromatic. Combine with the sugar and cinnamon.

Melt the remaining 40g butter. For individual pies, cut each sheet into 4 pieces. Butter the dishes well. For each pie butter a piece of pastry, sprinkle with almond sugar and top with another piece at a slight angle to the first and butter. Top with a third piece and transfer into the dish pushing down well. Soon a quarter of the chicken mixture into the case. Fold all the edges into middle, butter all around along with the fourth piece, and scrunch it onto the top of the pie, sealing well. Repeat with the other 3 pies. The pies can be chilled or frozen at this point. Bake at 180C/ Gas mark 4 for 15-20 minutes.
Notes
Serving suggestion:
Delicious served with a green or carrot salad. Variations:
This can be made into one large pie using the same method.