A great way to use up all those bits and pieces left in the cupboard. You can replace the dried fruits with any others you prefer or just simply need to use up. The same with the nuts and seeds. Also the peanut butter is a personal taste and for a really nutty bar use crunchy peanut butter.
I like to replace the honey with maple syrup or agave syrup, for a different flavour.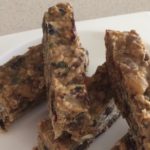 Print Recipe
Refrigerator Granola Bar
Ingredients
60

g

chopped dried apricots

60

g

chopped dried apple

60

g

chopped dried dates

60

g

dried cranberries

60

g

raisins

30

g

coarsely chopped pecan nuts

30

g

coarsely chopped walnuts

30

g

coarsely chopped almonds

30

g

chia seeds

30

g

pumpkin seeds

30

g

sunflower seeds

20

g

yellow linseeds

60

g

oats

60

g

honey or maple syrup

300

g

smooth peanut butter

100

g

butter
Instructions
Melt the butter, honey/maple syrup and peanut butter in a pan or in a microwave. Stir well.

Place all the ingredients in a large bowl and stir in the melted peanut butter mix. Keep stirring well to combine all the ingredients.

Place into a shallow tray, smooth over the top,pressing down well and place in the fridge.

Remove and cut into small slices.
Notes
I prefer to eat this straight from the fridge as its firmer and seems to be better to nibble on!