From my experience, coconut is a bit like Marmite- you love it or hate it! I use so much in all its forms – coconut milk, flour, flakes, desiccated, cream, water and the wonderful fairground prize… in its original shell. On a trip to the beautiful island of Sri Lanka, we saw coconuts being picked and sold at the roadside for a refreshing tasty drink.
The great thing with coconut is its versatility and its subtle flavour in sweet or savoury dishes. I love using it in a variety of curries, soups and as a replacement for milk in pancakes.
These Coconut shortbreads add a lovely texture and taste to a basic shortbread recipe and are great with yogurt or a creamy dessert.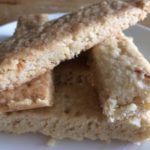 Print Recipe
Toasted Coconut and Lime Shortbread
Ingredients
75

g

desiccated coconut

plus more for sprinkling

110

g

golden caster sugar

Zest of 1 lime

225

g

butter

at room temperature

200

g

plain flour

100

g

cornflour
Instructions
Preheat the oven to Gas Mark 4 / 180 degrees C.

Spread the coconut out on a small baking tray and place in the oven for 5-10 minutes, until lightly toasted. Keep an eye on it after 5 minutes as it can go from golden to charred fairly quickly.

Line two large baking trays with greaseproof paper and set aside.

Put the sugar in to a large mixing bowl along with the lime zest. Work the zest in to the sugar with the back of a tablespoon. The sugar will turn slightly green, become very fragrant and look slightly damp.

Add the butter and beat together with the lime sugar until pale and fluffy.

Sift in the flours and the salt, add the toasted coconut. Fold in to the butter mixture until it starts to come together in cohesive dough. Tip the mixture out on to a lightly floured worktop and use your hands to work the dough into a smooth ball.

Flatten slightly, then with a floured rolling pin roll out until about 1cm thick. Use a sharp knife to slice the dough in to slices and lay out on the prepared baking trays.

Fork the top of the shortbread a few times to ensure even cooking then sprinkle with untoasted coconut.

Place trays in the fridge for half an hour to firm up. This will stop the shortbread from spreading in the oven.

Preheat the oven to 180 degrees C (160 deg fan). Bake shortbread for 20 minutes until the edges are just lightly browned.

Allow to cool on the tray for 10 minutes before transferring to a wire rack to cool completely.
Notes
Tip:
Working the sugar and lime well together, gives a lovely fragrance of lime to the shortbread.
You can dip the end of each finger in melted chocolate to make a special shortbread.