A lovely crisp and tasty salad which can be served simply with feta or goats cheese.Green vegetables are rich in antioxidants, vitamin C, folates, fibre, B-group vitamins and minerals.Not only are they a really important part of your diet but they are versatile and a pleasurable sight on the plate with the vibrant green colours.
Seeds are plant-based sources of essential amino acids and minerals, including calcium, zinc, copper and magnesium — especially important in vegetarian and vegan diets.When eaten as part of a healthy diet, they can help reduce blood sugar, cholesterol and blood pressure.
Sunflower seeds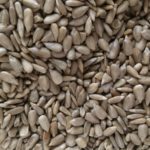 Chia seeds

Pumpkin seeds

Sunflower seed , linseed, goji berry mix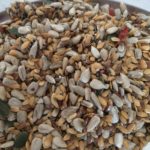 For an intense flavour you can roast the broccoli instead of boiling it.
Delicious accompaniment to Barbecued Hake in Vine Leaves with a Herb and Caper Pesto
Print Recipe
Honey-dressed seeded greens salad
Ingredients
300

g

broccoli broken into small florets

300

g

shredded kale

100

g

soya beans or peas

3

tbsp

mixed seeds- sunflower, pumpkin or chia- lightly toasted
Dressing
1

tbsp

extra virgin olive oil

1

tbsp

red wine vinegar

1

tbsp

runny honey

Juice of 1 lemon

Pinch of black pepper, to taste
Instructions
Cook broccoli for 1 minute in a large pan of boiling water, then add kale and soya beans or peas and cook for just 1 more minute.

Drain quickly and rinse in cold water. Leave to drain in a colander.

Combine the dressing ingredients, then dress the green vegetables and toss with the seeds.
Notes
Note: The broccoli can be roasted instead of boiled for a more intense and slightly crispy result. Toss the broccoli florets into 2 tbsp olive oil and season lightly. Roast for 15-20 minutes in a moderate oven until just beginning to char at the edges. Proceed with the recipe as listed above.