Pudding or Dessert ?
The definition of the word dessert is a sweet course that is served at the end of a meal. It is usually made up of sweet foods, but can also contain other items, such as herbs and cheeses. The term 'pudding' has become synonymous with the term 'dessert' in the United Kingdom and a few surrounding countries. However, pudding itself is a dessert dish as well as a savoury dish that is part of a meal.
Suet puddings with steak and kidney or mushroom and leek are typical examples.
The word pudding is believed to come from the French boudin, originally from the Latin botellus, meaning "small sausage", referring to encased meats used in Medieval European puddings.
Though not always admitted, some people prefer to use the term dessert as against pudding as this has connotations of class. Using "Dessert" is thought to be posher than a homely pudding. This distinction has changed with more traditional recipes making a fashionable comeback in recent times – such as Spotted Dick, bread and butter pudding and the timeless Trifle!
This 'pudding' or 'dessert' gives a twist on the original Summer Pudding.
You can increase the quantities to make a large pudding.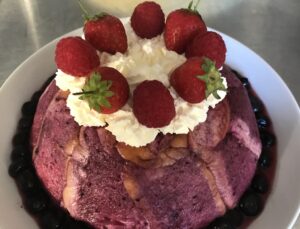 Print Recipe
Brioche summer pudding with an iced custard filling
Ingredients
Ingredients for each individual pudding using a small ramekin.
Summer pudding
60

g

strawberries

halved or quartered if large

60

g

raspberries

60

g

blackcurrant jam

1

tbsp

crème de cassis or Ribena

3

slices

brioche loaf
Custard
100

ml

whole milk

5

g

castor sugar

7

g

custard powder

40

g

double cream

1/2

tsp

vanilla essence
Instructions
Place all the fruits, jam and cassis in a saucepan and cook gently over a medium heat for about 4 minutes, until softened but still holding their shape or in a bowl for 2 minutes on medium in a microwave.

Drain over a bowl, reserving the juice and allow to cool slightly.

Cut 2 large rounds from the brioche slices and 3 strips to line the bowl.Dip 1 brioche round into the juice, soak well and use line the base of a small basin. Dip the strips into the juice and line the sides of the bowl. Fill with the fruit and place the remaining soaked round on top.

Cover with clingfilm and place a saucer with a weight, such as a food can, on top and put in the fridge for 4 hours or overnight.

40 minutes before serving, score a small circle of brioche from the top of the summer pudding, put to one side, and remove a large teaspoonful of the fruit. Pop a cube of iced custard into the hole and replace the brioche.

Invert the pudding onto a plate and spoon the summer fruit on the the top.

Place extra cubes of iced custard around the edge. Leave for 40 minutes at room temperature.
To make iced custard
In a bowl mix together the custard powder and sugar adding the milk slowly to make a smooth mix. Heat gently in a pan or in a microwave to make a smooth custard.

Remove from the heat and whisk well. Stir in the cream and vanilla if used and whisk again.

Pour into an ice cube tray. Cover with cling film and put in the fridge.

When completely chilled, place in the freezer for a couple of hours.
Notes
To make a large pudding for 4-6 people in a pudding basin, multiply the ingredients by 5.