Crumpets….. those delicious small griddle cakes with air bubbles made with milk, water, flour and yeast. We love them oozing with butter, dripping onto the plate. I have lovely memories of toasting our Sunday afternoon crumpet treat over the open fire in the lounge.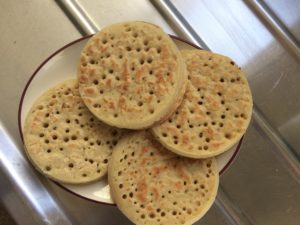 Personal choice, but I love mine with Marmite as I'm a savoury person. and..! for that extra yummy snack, butter, some marmite then topped with mature cheddar cheese and toasted. Delicious!
Historically, breads were always cooked on a griddle where a bread oven wasn't available. Crumpets differ from muffins in that they are made from a batter whereas muffins are made with a dough. From the 19th century some bicarbonate of soda was also usually added to the batter, which is what I have found makes the difference.
Print Recipe
Crumpets
Ingredients
375

ml

milk

7

g

easy bake yeast

375

g

plain flour

½

tsp

salt

½

tsp

bicarbonate of soda

Oil or butter for cooking
Instructions
Heat the milk until just warm and stir in the yeast.

Sift the flour and salt into a large bowl and make a well in the centre.

Pour in the milk gradually, beating or whisking as you go to make a completely smooth mixture. ***

Cover the bowl and leave in a warm place for 1- 1¼ hours or until doubled in size and full of bubbles.

Dissolve the bicarbonate of soda in 200ml water.

Add to the batter and mix well. Cover and set aside for 15 minutes.

Heat a pan to medium heat and brush with a little oil or butter.

Lightly oil the inside of 2 pastry cutters about 9 cm in size. Put them on the pan.

Pour in the crumpet batter to a thickness of 1cm, lower the heat to very low and cook for 7-8 minutes. The bubbles will rise as the crumpets cook.

The crumpets are ready to turn over when the top has dried out enough to form a dry skin.

Loosen the rings and turn the crumpets over browning the top for about a minute.

Remove and repeat with the rest of the mix.

If the batter starts to thicken add a little more water.

To serve toast the crumpets as usual.
Notes
Note : the mixture can be made in advance the night before at stage*** and covered, then brought to room temperature and left for 10 minutes before adding the bicarbonate mix.