A dish that can be prepared well ahead and just needs last minute flashes in the pan! It combines flavours, different textures and is bursting with colour. Perfect for a Saturday night special.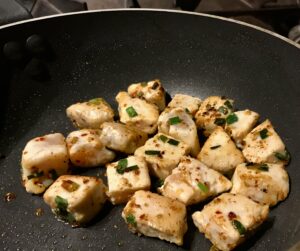 Potato skins make a nice change from croutons and can be cooked from frozen. Just add another 10 minutes.
You can replace the slow-roasted tomatoes with sun-dried tomatoes.

Print Recipe
Warm Tuna salad with Italian spices served with crispy potato skins
Ingredients
200

g

fresh Tuna

cut into 2cm dice

2

spring onions

thinly chopped

1½

tsp

spice mix -see below

1

little gem lettuce

halved or ¼ iceberg cut into ½ lengthways

2

eggs

2-3

tbsp

olive oil

1

tbsp

capers

2

tbsp

mayonnaise

Broccoli

broken into small florets

6

slow-roasted tomato halves

warmed

jacket potato skins from 2 potatoes
Spice Mix
1

tsp

chilli flakes

1

tsp

coarse black pepper

1/2

tsp

fennel seeds

1

tsp

paprika

2

tsp

mixed herbs

1

tsp

cumin

1

tsp

garlic salt or flakes
Mix all the ingredients together and store in a jar. 
Instructions
Place the tuna on a plate and sprinkle over the spice mix and spring onions.

Drizzle over a tablespoon of olive oil and leave to marinade for about 1 hour. Put the potato skins onto a baking tray and cut into 3 lengthways. Drizzle over some olive oil and season.

Place them in a medium oven 180C/ gas mark 4 for 20-25 minutes until golden and crispy.

Boil the eggs to your own preference.

Heat a little oil in a frying pan over a medium hot heat and add the lettuce halves. Cook for about 1 minute on each side, just enough to slightly soften and a light brown. Place each on separate warm dinner plates.

Remove from the pan and add the broccoli. Again simply toss for about 1 minute. Add to the lettuce.

Heat the pan and add the tuna and saute until just seared on all sides.

Arrange the tuna, eggs and tomatoes onto the plate with the lettuce and broccoli.

Mix the capers with the mayonnaise. Season with coarse black pepper

Arrange the potato skins around each plate and serve with the mayonnaise.
Notes
Variations - For a vegetarian dish replace the tuna with drained tofu and marinade and cook until golden.