This recipe is simple and a tasty way to use up apples and pears which are past their best. You can also substitute them with sliced squidgy bananas.
The addition of rye flour and yogurt gives a good contrast to the sweet but salty caramel. You can use natural or Greek yogurt. The caramel can be made in several different ways and can use certain 'leftover' ingredients. To add flavours you can use ground ginger, cinnamon or mixed spice and also a pinch of ground coriander which although associated with spicy food is a warm and sweet spice. I always put some in my Christmas cake or a fruit cake.
Try adding some dried cranberries or plump raisins to the cake mixture for a change.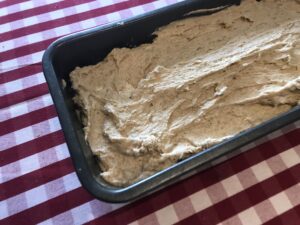 Print Recipe
Salted Caramel Upside-down Apple and Pear Cake
Ingredients
2

pears

2

apples

250

g

butter

softened

250

g

light soft brown sugar

4

eggs

beaten

salt

100

g

rye flour

150

g

self-raising flour

1

tsp

baking powder

1-2

tsp

cinnamon

ginger or mixed spice

2

tbsp

natural or Greek yogurt

Caramel

200

g

light soft brown sugar

90

g

butter

120

ml

single cream

1

tsp

salt

Alternative caramel recipe

1

tin caramel condensed milk

60

ml

single cream

1

tsp

salt
Instructions
Tin size options - 29cm x 13cm , 30cm x 20cm. For half the quantity use 21cm x 10cm or 20cm x 18cm

Heat oven 180C / Gas 4.

Peel and core the apples and pears and slice into 8 segments.

Pour enough caramel on the bottom off your baking tin of choice to cover thickly.

Place the apples and pears on top of the caramel and cover well with some more caramel.

Beat the butter and sugar until creamy, add a pinch of salt, then beat in the eggs, one at a time.

Mix together the flour, rye flour, spices and baking powder and fold into the mixture.Fold in the yogurt until mixed thoroughly.

Scrape the mixture into the tin. Bake for about 45 -50 minutes for the larger tins and 30-35minutes for the smaller tins, until deep golden and cooked through.

Leave to cool slightly , then turn out onto a plate.

To serve - pour over any extra caramel and serve with clotted cream.

To make the caramel -Place the sugar and butter into a pan or bowl if using a microwave.

Melt slowly and stir well to mix.

Add the cream and salt and beat together. Heat again until just on boiling point.

Beat and put aside to use.

This can be kept in a fridge for up to a week or frozen.

Warm through to use as a sauce.

Alternative recipe -Pour the tin of caramel into a bowl or pan and add the cream and salt. Warm through and mix with enough cream to make a thick pouring sauce.