Yummy!Yummy! What a lovely way to eat 2 of your 5-a-day! Roasting the peaches gives an intense 'peachy' flavour.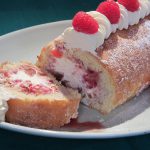 Print Recipe
Raspberry Ripple and Peach Melba Roulade
Ingredients
For the Swiss roll

3

large free-range eggs

room temperature

Half the weight of the broken eggs in caster sugar

Half the weight of the broken eggs in self-raising flour

2

tbsp

raspberry jam

Filling

200

ml

whipped double cream

100

g

raspberries

4

peaches

oven-roasted, see recipe below

2

tbsp

clear honey or maple syrup
Instructions
Preheat the oven to 200C/400F/Gas 6.Lightly brush the base of a 30cm x 23cm Swiss roll tin with vegetable oil. Cut a sheet of greaseproof paper to fit the base of the tin. Brush the paper with a little more oil, then dust with caster sugar and flour.

Whisk the eggs and sugar in a bowl until pale and fluffy, until pale and thick enough for the mixture to leave a trail when the whisk is lifted. This takes about 5-7 minutes.

Sift half the flour into the mixture and fold in very carefully until no traces of flour are left. Repeat with the remaining flour. It's important to take your time and do it thoroughly so no traces of flour are left.

Half the mixture and gently fold the raspberry jam into one half. Spread this gently into the prepared tin and top with the other half.

Bake in the centre of the oven for 7- 9 minutes, until golden and risen and just firm to the touch.

Remove from the oven. Lay a piece of greaseproof paper that is larger than the sponge on the work surface. Dust the greaseproof paper with caster sugar. Turn out the sponge onto the sugar-dusted paper. Peel the paper off the base of the sponge. Roll gently lengthwise and place on a cooling rack.

Once the sponge is cool, unroll it gently.Trim off the edges of the sponge.

For the filling, dot the sponge with the roasted peaches and raspberries, then top with the cream.

Roll the sponge carefully. Drizzle the peach juices over the top and serve.
Oven-roasted peaches
Slice each peach into 8-10 slices.

Put into an oven-proof pan with 2 tbsp water, and cook over a medium heat until just beginning to soften. Do not stir.

Remove from heat and gently stir in 2 tbsp maple syrup or clear honey.

Slow-roast in the oven gas Mark 2/150C for 45 minutes until starting to caramelise.

Remove from oven and if using for the roulade, drain off any excess juice. The excess juice can be used as a collision to serve with the roulade. These are also delicious served with Greek yogurt.
Notes
Serving suggestion:
The roasted peaches are delicious served with cold ham or chopped and eaten with goats cheese or camembert.