Quinoa – Keen-wa- the grain off the Incas is a lovely alternative to rice and is full of healthy goodness, quick to cook and with added flavours to enhance it has a lovely unique texture and compliments many dishes.
The sauce for this tagine can be used to make a lovely healthy vegetarian Dish by using diced Quorn. To save time I make a batch of the spice mix and keep it in a screw top jar.
It can be used to make a delicious soup with any leftover vegetables and a tin of tomatoes.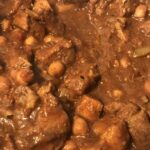 Print Recipe
Moroccan Pork Tagine with Vegetable Quinoa
Ingredients
Moroccan Pork Tagine

600

g

diced shoulder pork

3

tbsp

olive oil

1

onion

thinly sliced

3

cloves

garlic

crushed

1

tsp

each – cloves

cinnamon, ginger, turmeric, nutmeg, pepper, cumin, coriander, paprika, caraway seeds

Pinch

of saffron

1

lge tin chopped tomatoes in tomato sauce

1

large tin Chick peas

drained

80

g

dates

coarsely chopped

4

tbsp

clear Honey

1

small chilli

chopped finely & deseeded if not liked too hot

1

handful of roughly chopped fresh coriander

1

tbsp

thick cut marmalade
Vegetable Quinoa
150

g

quinoa

Selection of cooked vegetables in small dice – carrots, cooked fresh beetroot, sweet potato

2

spring onions, finely chopped


½ orange, peeled and finely chopped
½ lime, juice of
a pinch of salt


½ orange, peeled and finely chopped


salt and freshly ground black pepper
Instructions
Moroccan Pork Tagine

Heat 1 tbsp olive oil in large ovenproof dish. Add half of the pork and gently brown, taking care not to move the meat to much until nicely browned. This helps to keep the juices in and keep the meat moist and tender. Remove the meat from the pan onto a plate.

Repeat with the second batch of meat. Putting too much meat in the pan at once means the meat cannot brown nicely. Remove the meat as before.

Heat 1 tbsp olive oil and gently sweat the onions, chilli and garlic until soft.

Mix all the spices together and add to the pan with the onion mixture and another drop of olive oil.

Fry spices off in the olive oil for a couple of minutes.

Return all of the pork to the pan adding any juices from the plate. Stir well to coat the pork with the spice mix.

Add tomatoes, chickpeas, honey, marmalade and dates. Add 175ml water - half the tin from the tomatoes is a good measure! Stir in well and bring to simmering point.

Place in moderate oven Gas 3, 170c For 45 minutes.
Vegetable Quinoa
Rinse the quinoa in warm water. Bring two cups of water to the boil to one cup of grain, cover, simmer and cook for approximately 15 minutes or until softened.

Drain the quinoa of any excess liquid, and then return the quinoa to the pan.

Add the remaining ingredients and mix well. Leave to stand to allow the flavours to be absorbed.
Notes
To serve
When you are ready to serve, reheat the quinoa gently and place in a ring on the plate.
Spoon the pork into the middle and top with chopped fresh coriander.