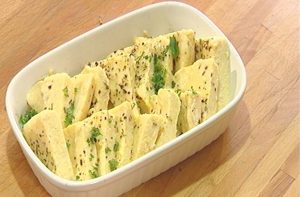 Polenta With Creamy Mushrooms
Ingredients
70

g

polenta

450

ml

milk

cows, goats or soya

2

bay leaves

1

sm onion

peeled & pricked with a skewer

sea salt & coarse ground pepper

1

tbsp

chopped fresh herbs- basil

parsley or oregano

1

tbsp

olive oil

100

g

goats cheese

diced

125

ml

double cream or soya cream

150

g

chestnut mushrooms
Instructions
Oven 180c

Put milk into a large saucepan with the bay leaves & onion & bring to the boil.

Leave to infuse for about 5 minutes.

Remove bay leaves & onion.

Add polenta, and stirring constantly, bring to the boil, boiling for about 2 minutes.

Still stirring, simmer gently until thickened.

Add the olive oil, goats cheese & chopped herbs, & put into a dish to cool.

When cold turn polenta out onto a board & cut into triangles.

Tier alternate layers of polenta & mushrooms, pour cream over the top & bake for 15-20 minutes.

The polenta can be served with a green salad, on its own or as a side dish.
Notes
Savoury variations for using polenta:
-The olive oil can be substituted with any other flavoured oil such as avocado, walnut or basil.
-The cheese can be substituted with chopped olives or sun-dried tomatoes.
-A spoonful of a good pesto can be beaten in at the end of cooking.
-The polenta can be used as an alternative pizza base. top with roasted vegetables or a chunky tomato sauce and sprinkle with mature cheddar cheese. Sweet suggestion:
-Make polenta as above replacing the oil with butter or soya margarine, beat in castor sugar, maple syrup or honey to taste, fold in blueberries, grated lemon or orange rind or diced chocolate. Allow to cool in a dish. When cold cut into shapes of your choice and layer in a dish.
Top with 125 ml double cream whisked up with 1 egg and bake in oven as above topped with flaked almond (optional)