Have you got some puff pastry over from making that pie? would you like something ready in the freezer for that lunchtime snack/ picnic hamper/ unexpected visitor for drinks or simply a quick and easy bite for when you are busy gardening/decorating ….. or simply hungry!!!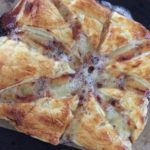 Raiding the fridge usually turns up some perfect fillings for puff or short pastry. I had a couple of slices of ham and some grated Red Leicester. Add some mustard and you have what I call York fingers. Simply roll to your pastry thinly and cover half with ham, spread with mustard – I like English best – cover with grated cheese – I use a lot! Fold over to cover the fillings and press gently. Place on a greased baking tray or Bakewell parchment. Score into slices cutting through the first layer of pastry. Egg wash and bake for 12-15 minutes 190C / Gas mark 5. Cool and cut into slices.
Use this method with any other ingredients. The choices can be limitless. I made some brie triangles with red onion marmalade.
Filo and shortcrust pastry can be used in a similar way. I have often heard people say they have those jars of condiments we all buy for a set dish and leave in the fridge until they are past their sell-by date. These are often perfect for adding flavour to these pastries. Some of these suggestions below fall into this category!
Suggestions for fillings-
grated paneer cheese and harissa
feta cheese and tapenade
drained chopped sun-dried tomatoes and pesto
cooked bacon and tomato relish
drained cooked chopped mushrooms blended with cream cheese
chopped red pepper and sliced mozzarella cheese